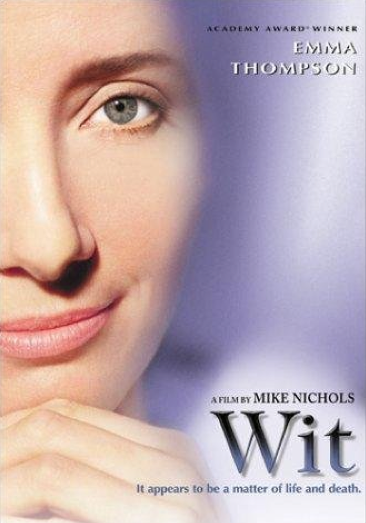 《Wit》, poster from IMDb
I became a mother lately.
Become a mother,
You become softer, but you become stronger.
Being soft for your baby, being strong for your baby as well.
Watching a movie called "Wit" on HBO, can't remember how many times I've watched it, they keep put it on from time to time. And I've always been drawned to watch it when it's on. It talks about a professor who's got cancer, how she looks at her life, her sickness in her final days, how she would like to have some mercy when she's being a patient instead of being treated as a research project by the cold-faced doctors, just like how she would treat her students when she was still a teacher at school to be professional. Human beings are funny like that, aren't we?!
Watching it makes me wonder, as a mother, I'll be brave and strong, I have to; but when it comes to death, how strong can I be? If I have cancer in the end of my days, how strong can I be, how strong WILL I be? Will I be able to out come the pain, as I would stand up for my baby when I become a mother? Will I be strong for myself? I wonder which strength will be stronger, the one for me or the one for my baby.
I like the part when there's a young doctor and a nurse in the professor's room. They were talking about the young doctor had once been the prof's student and how the prof was a great teacher, how wonderful her classes were and how he respects her. And the nurse kept asking questions, in the end of the conversation, the doctor asked, what did they teach you in the nurse school? Like saying she's so stupid to ask all these questions. The nurse just looked at him, didn't say anything but looked away with a smile on her face, then she picked up the prof's hands and started to massage her hands with lotion. (Ya, nurses are not robots nor nerds, they might not know a lot, but they know it's more important to take care of patient's feelings and comforts than the numbers on the machines.)
I like this kind of movie, which has literariness in it. Like 《The Hours(時時刻刻)》, or 《Angels in America》. Everytime when I encounter them, I couldn't withdraw myself, and I would let the feeling linger on for a while. It's fascinating, so there's no talking, no conversation, no other music, not even the temperature change allowed around me, till I process and digest the feelings and thoughts thoroughly. I like it, it's spiritual, it's my thing. (But when it happens, I will act like a ghost, 'cuz I was in my mind.)
Being a mother is hard to have this moment anymore, 'cuz your life has been cut in little pieces for washing dishes, petting your baby to bed, breast-milk pumping before you sleep, and etc. So I cherish this little moment more, I have to have stronger will to keep my thoughts in mind before I've got caught up by millions of other little things and forgot about it, before I become Mrs. Dalloway. I cherish more for all the little pieces of moments that only belongs to me and to me only.